Startup valuations. The most talked about topic in the space.
Everyone I talk to wants to know what I think. And everyone got their opinion. Valuations are to startup people what housing prices and interest rates are to homeowners.
So here is my opinion. Based on some facts I've researched and people I talked to.
Early-stage startup valuations are holding their own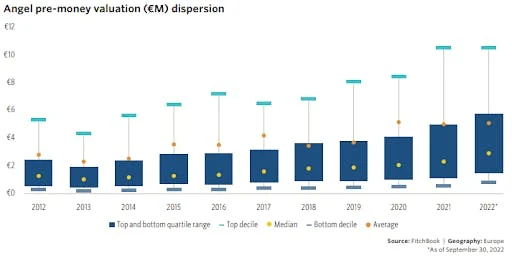 The valuations are about at the same level as in early spring.
In this case, early-stage startups have a broad definition. From having one or two pilot customers and some revenue to positive cash flow all the way up to €400k, maybe as much as €800k in revenue.
I'd say this is the perfect place to be right now valuation-wise for a startup.
Being valued at €1M up to maybe a couple of hundred million euros. You have some cash flow, have proven customers are willing to pay, and have proved yourself to be able to execute.
At the same time, you are not compared to the large tech companies on the listed exchanges who lost 50-80% of their market cap.
If you are pre-revenue, you are a little bit too risky of a bet to investors
Investors don't know if you will be able to generate a cash flow. This is scary with rising interest rates and uncertain economic times.
You might be dependent on more capital injections soon which might not be there when you need it.
We know the VC funds have cash in their accounts right now. Capital they want to deploy. But we don't know if they will be able to raise their next funds. Which will be the money you as an early startup will need to have 3 years from now when you are going to scale.
Rounds take longer to close
Founders I speak to, and investors in the angel space all say the same. Rounds take longer to close now. But if there is a quality case, they do close.
I see the same startups coming back for another go-around with a lower valuation than 6 months ago. But this is also part of the dance. Founders make a stab at a higher valuation to see if it sticks. €8M becomes €5M. And €5M becomes €3M. And with these lower valuations, I also see a tendency to raise smaller rounds. I just hope these startups get the funds to execute their plan.
Statistics and quarterly reports support stable valuations on early-stage startups and drops on late-stage startups
Here are some data points on valuations startups have:
Vostok New Ventures scout investments have increased in valuation by 3% this year (2022 Q3 reports). These investments are most probably in early-stage startups.
One smaller VC with only early-stage startup investments raised a round based on its current portfolio. Seasoned investors did not discount valuations for that portfolio when making an investment.
Pitchbook reports no decrease in average valuations of angel-stage startups from 2021 to Sep 2022. It stays around $4M-$5M. (See the image at the start of the newsletter).
If we look at late-stage startups, the valuations seem to be dropping significantly.
Vostok New Ventures portfolio has gone from a NAV (Net Asset Value) of $1.4 billion (31 Dec 2021) to $750M (30 Sept 2022) according to their quarterly report. Their portfolio is composed of mostly late-stage startups like Voi.
Pitchbook reports lower valuations for late-state VC startups. See the graph below.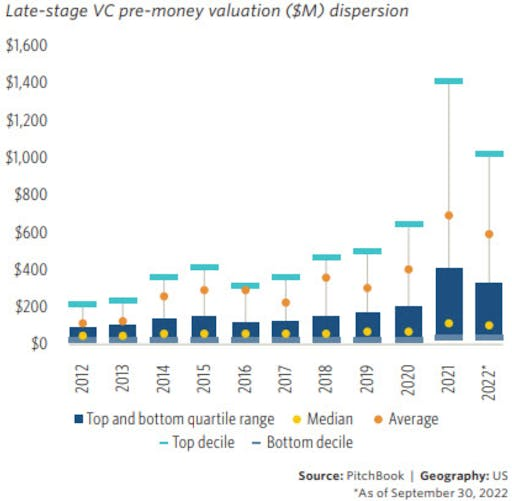 What is your opinion on startup valuations? Let me know your experience from the latest round you have been involved in. Hit reply to this email.
Best,
Chris